Macrame is a technique using various knots to craft projects and pieces, ranging from on-trend homeware to fashion accessories, toys, and gifts. It is a perfect craft for complete beginners and can be mastered quickly and easily.
It is easy to teach yourself the art of macrame, with very few materials needed to start. The first step is to master the square knot, the main knot used in macrame projects. A basic macrame coaster project is the perfect way to begin:.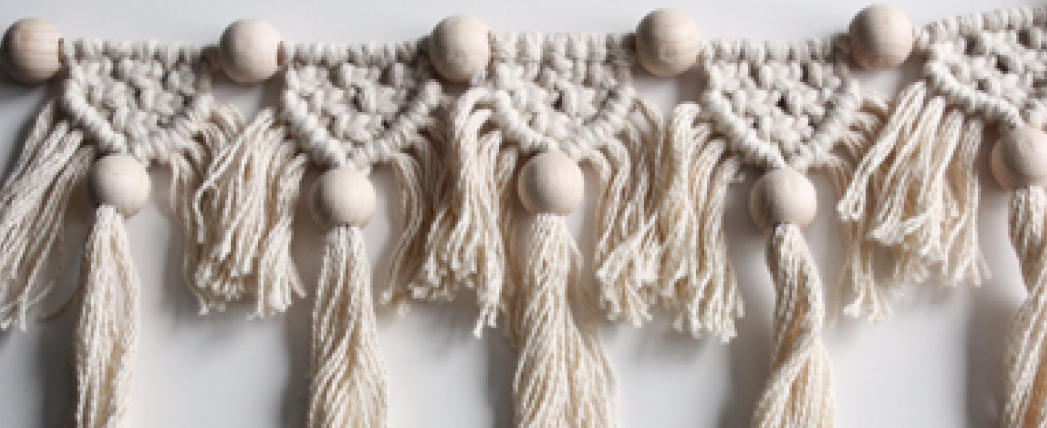 Top tips
Protect your back whilst working. Find a comfortable position and practise good posture.
Practise the basic knots before embarking on a project. The square knot, the larks head knot and the cloves hitch knot are great places to start.
Cut more cord than you think you will need. This allows for errors and ensures you have enough to complete a project.
Use good quality fabric scissors for cutting cord, and a sturdy comb for brushing fringes.
Use hooks or hangings to allow you to suspend projects such as plant hangers whilst you work.
Search online for further resources. There is an abundance of information available to help you hone your craft.
Macrame kits
A macrame kit is a great way to begin your macrame journey. It contains everything you need to complete a project, whether you are looking to make gifts, toys, fashion accessories or homeware. Macrame accessories are currently on-trend, giving a hint of boho vibes to your look or your interior.
A whole host of kits are available from specialist sites such as woolcouturecompany.com/collections/macrame-kits. These come complete with all the cord needed for your project, a pattern, a handy how-to guide, as well as all necessary accessories such as S hooks for hanging mounted projects.
Macrame is suitable for crafters with all levels of skill. Macrame projects are very forgiving in terms of errors, so don't worry if you can't do it perfectly right away. Should you make a mistake, knots can be undone and started over. With practice, you will soon master the various techniques.