Slack has created a reputation in recent years as one of the best communication tools for teams. But other tech giants do not seem willing to let them take all the cake in this field. In early October Facebook launched Workplace and yesterday was the turn of Microsoft to announce the arrival of Teams to Office 365.
Workplace seeks to bring to teams a kind of mini-Facebook designed to allow collaboration among employees of an organization or company. Microsoft Teams is the latest effort by the Redmond to extend their working tools, now with a team – oriented that integrates with Office, Skype and other chat services. It is a good time to make a detailed study on the features and functions provided by each review and compare their offers.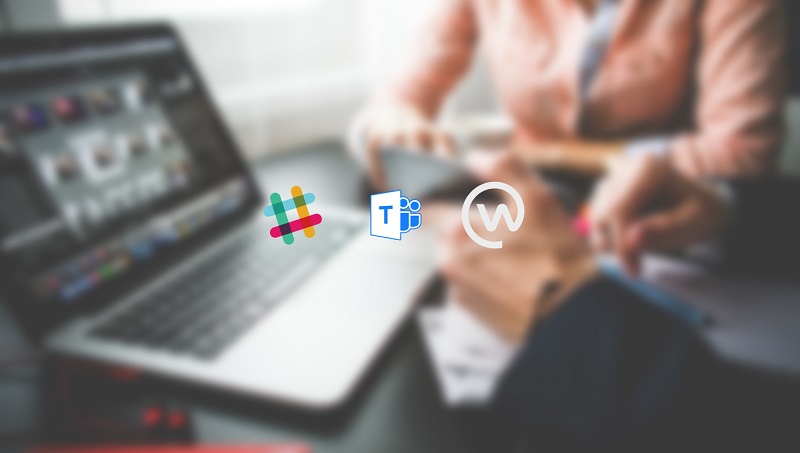 Microsoft Teams
We begin with the latest competitor: Microsoft Teams comes as a clear step forward for a company that takes a few years working on their productivity tools based on the cloud. Teams could end up being a substitute for Yammer, corporate social network of Microsoft, insurance latter has served in part to its development.
Teams would come to serve as the link between all products of Office 365. Instead of having to switch between multiple applications, work teams have everything at hand in different "tabs" of Microsoft Teams from which can integrate various services cloud and manage different teams.
As for chats, Microsoft has done a great job providing a modern experience, earning points for stand the sight in chat groups, which still unimplemented Slack service. The expected support GIFs, stickers and emoji fully present, in addition to the views precis links within the app.
Microsoft is definitely focusing on the enterprise market, in fact there is no free use plan as in the case of Slack, only subscribed to Office 365 will use companies.
One of the great advantages of Teams against competition is that it has other tools Microsoft ready to be exploited: Skype and Office offer all facilities to integrate voice calls or video conferencing, and document editing Word, Excel, PowerPoint , SharePoint, OneNote, Planner, Power BI and Delve directly in one place.
Microsoft Teams is also built on Office 365 groups, which allow users to move from one platform to the other collaborative naturally. The teams that already use Microsoft tools are unlikely to have difficulty in choosing which chat application will use now. Hence the Redmond have a great advantage.
As in Slack you can work with multiple teams. Each team can take advantage of the open API to customize your space. They will also have at their disposal notifications and updates of third party services like Twitter or GitHub. And finally Teams will also have full support for Microsoft bots.
Workplace by Facebook
Perhaps the platform that is more difficult to replace the current communication tools of an enterprise. However, Facebook has a big advantage is that when fully built on the same social network, works and looks exactly like the Facebook we all know. The learning curve is minimal and people do not need almost no training to use.
Facebook Workplace offers all the tools of the social network and several extras designed for business management. From the feed of News, and known reactions, search and feature articles to the possibility of creating groups and chats. You can converse with colleagues, share ideas in a group, or follow a presentation in real time with Facebook Live.
Workplace also integrates a panel of analytical BOUT use that users use a service team. It is integrated with SSO ( single sign-on ) with identity providers that allow the tool to integrate with existing IT systems of a company.
Something that highlighted the announcement of Workplace is in groups multicultural work, these are spaces that allow employees of different organizations working together safely.
Facebook offers separate applications for the change between your work and personal accounts is as natural as possible. Your work account is a separate subdomain on the web, and needs a different app. Ideal to avoid unnecessary confusion.
As for pricing plans are highly competitive, the more active users per month have is even cheaper. Starts at $ 3 per month for 1,000 users, and $1 for each additional user after the first 10000. In addition if it is an educational institution or non-profit, Facebook Workplace is free.
A Workplace is not really interested replace something like Slack, it does not work the same way, it is not a chat room channels. It is a complete social network, and compete more directly with Microsoft tools.
You may also like to read another article on BlogsMujer: How much do I charge by the hour not to be at risk of being replaced by a robot?
Slack
Simple but powerful, Slack has become one of the best options to keep the communication between equipment immediately. They themselves were sold as a tool to try to replace the email and reduce the number of meetings have in a company.
Slack stands so easy to use it and how effective it is. You can talk to all different work teams you want, each of these teams can create private and public channels, and you can have private conversations with other users. Slack also has integrated voice calls, and an open API that has allowed its integration with a huge amount of third – party tools.
It is not just a simple chat application, because it integrates with cloud services like Google Drive, Dropbox and Box. It also works wonders with products like Asana, Trello, or GitHub to provide notifications in chat channels. Recently improved integration with Google Docs to share documents directly from the chat window.
Slack has more than 700 third – party applications that you can use to further improve your experience on the platform. Things ranging from simple nonsense whose only purpose is to amuse, to developer tools, marketing, payments, design, customer service, human resources, analytical, etc. And a huge amount of bots.
As for prices, Slack is the only one of these three offers a free plan for any user. Its limitations are just 10 application integrations, 5GB of storage per team, and message search until the last 10 most recent thousand.
Payment plans are charged for active users per month and charged annual or monthly basis, ranging from 6.67 to $ 15. They offer advantages as group calls, more storage, support, unlimited integrations and security features.
| | | | | | |
| --- | --- | --- | --- | --- | --- |
| PLATFORM | PRICE | PLATFORMS | IT HAS FREE PLAN | VOICE CALLS AND VIDEOCONFERENCING | |
| Microsoft Teams | Included in Office 365 Enterprise plans Essentials and Premium: 4.20 euros per user per month or 10.50 euros per user per month respectively. | Windows, Mac, Android, iOS and web. | Do not. | Yes | |
| Facebook Workplace | $ 3 for the first 1000 users, $ 2 for the following 9000 users, $ 1 for each additional user from 10001 | Android, iOS and web. | Only for educational institutions and non-profit. | Video calls and Facebook Live Chat | |
| Slack | Standard Plan: $ 8 per month per user, Plus Plan: $ 15 per month per user | Windows, Mac, Linux, Android, iOS, Windows Phone, web. | Yes, with certain limitations. | Individual voice calls and group free app on payment plans | |
The perfect tool does not exist, but the initiatives both Microsoft and Facebook offer a nice touch of competition which in theory should benefit users to have more choice. Choosing one over another depends on the needs of each group, the type of tools they already manage, and obviously the team's budget.
More on Wikimodel.org