Fabric structures are becoming more and more popular. Attractive, flexible and hardwearing, they can increasingly be seen in anything from shopping centres to churches, exhibition centres and markets, but what exactly are the fabrics made from and how do they withstand the wear and tear of everyday life? After all, fabric buildings must be able to withstand the elements in addition to being strong, durable and safe.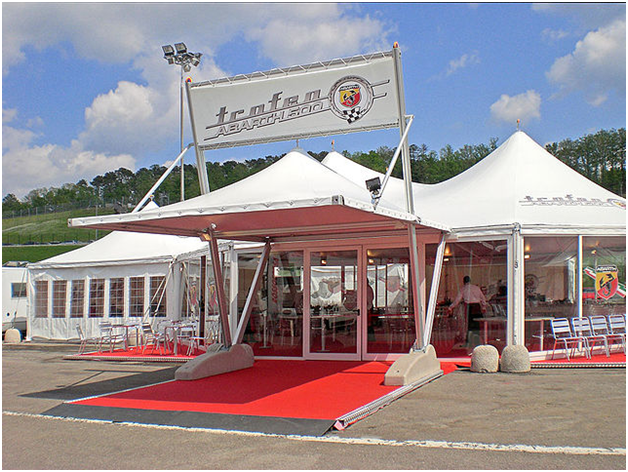 According to digital media publisher Engineering.com, the fabrics used in such structures are not only very strong but also easy to repair if the worst happens.
Here we take a brief look at the most popular fabrics used in architecture today and see just what makes them so special.
Outside use

The fabrics used for outdoor structures are usually made from one of two different materials: polyester cloth coated with polyvinyl chloride (PVC), or glass cloth coated with polytetrafluoroethylene (PTFE – also known as Teflon). Both have long lifespans and both are easy to keep clean, meaning they will retain their good looks for many years.
Those with a PVC coating contain additives such as fire retardants, UV stabilisers to ensure they do not fade quickly, and antifungicides to keep away the mould. A PVC membrane can also be protected by fluorinated polymer lacquers, which will improve its cleanability.
For more information on this type of tensile structure, visit the website of a company specialising in tensile structures, such as http://fabricarchitecture.com/.
Inside use

For interior use, there are three commonly-used fabrics: cottons, glass mesh and glass cloth.
The most widely available and economical, cotton comes in a wide variety of colours and is ideal for areas in which a more natural look is required. As it is liable to shrink and stain over time, it is not suitable for long-term use.
Glass mesh, which can be coated with PVC, is more durable, but has more of a gauze-like feel; meanwhile, glass cloth is usually coated with polyurethane, which makes it hardwearing while giving it the appearance of a more natural cotton.
Glass cloth can also be coated with silicon, which has a high resistance to fire. In some instances, where more strict fire regulations have to be met, pure glass meshes can be used.
In certain circumstances, materials such as Lycra and silk have been approved for use indoors.