Music, when it's nice and positive creates spirituality and joy. Those feelings are needed at your wedding, in this case, the music becomes a very important aspect.
How can you achieve an atmosphere of spirituality combined with fun? How does that effect the music?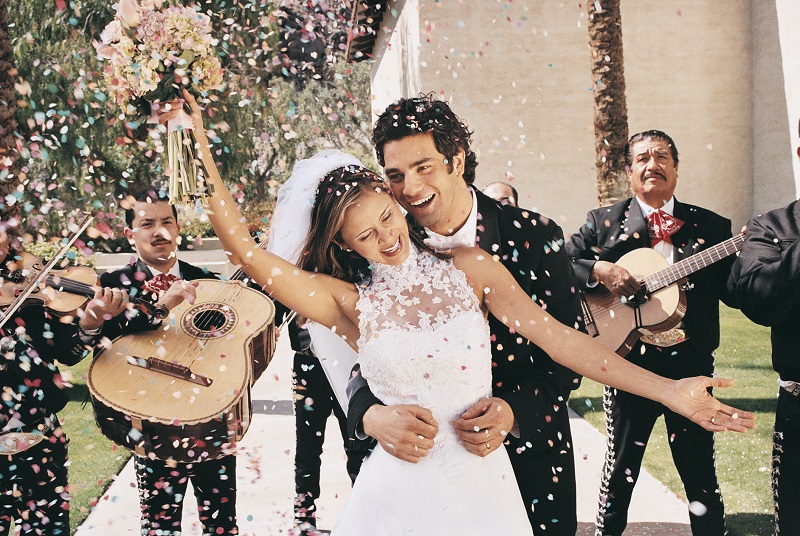 During the ceremony
Music helps your guests feel touched and their spirits filled with the love that radiate boyfriends.
Whether the temple provides musicians as boyfriends or if you seek it, should listen in advance to ensure that the lyrics, melody and the instruments used are adequate to create the atmosphere they want.
In the reception
During dinner music groups can be live or recorded songs. If you have a musician friend you will surely be very pleased to present.
You can also choose some songs from the favorite band of the couple.
Note two important aspects
Involve your family and friends creates an atmosphere of affection and support, which the couple need to start their life together.
Make decisions that reflect the beliefs, culture and yours and your boyfriend's personality.That, rather than blindly follow customs, will make your wedding unique and unforgettable.
You may also like to read another article on BlogsMujer: Distance relationships are difficult, but worth it!
Party
Today there are bands playing a variety of music at the same time, they encourage the party.
If it is within your budget surely a great atmosphere of celebration will be created. Do not forget to talk to them in advance to set the type of music, and details such as where installed, the hours will perform, how many breaks and other aspects that you and your boyfriend set.
But, if you are not at your fingertips hire a live band, you can rent a sound system and put recorded music. Before choosing the songs or the type of music you should think about the various guests who will.
For example, you should never miss the popular music, which is fashionable at that time; disco or early 70's; Pegaditas dance music; and the inevitable salsa, cumbia and merengue.
The song Grooms
The song of the couple is a special moment. The eyes of the guests are upon the newlyweds. This song should make your friends and family feel touched and transmit tenderness and love.
An advice
One should not think that spirituality at a wedding is to live quietly and without joy. On the contrary, it is to fill the spirits of the guests with extreme joy and admiration for the couple. The perfect music touches the hearts and lift the feet of the least dancer.