The holiday season provided us with some wonderful evidence of new trends emerging in catering for big events. Here, we look at three of the most intriguing and innovative ideas that emerged to excite revellers recently.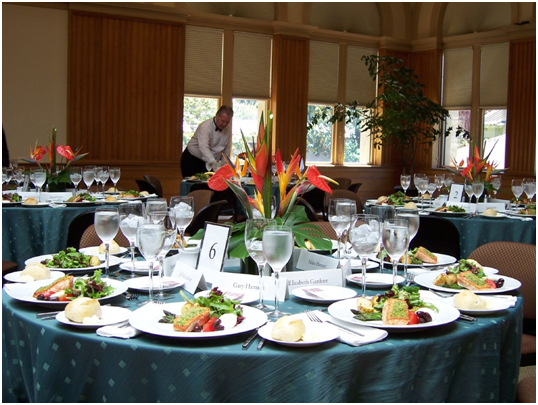 Ben Spalding is one of Britain's most exciting young chefs, and he has really been making waves in the national press over the last couple of years, whether that's from refusing to cook chips or taking up a role as executive chef at the Aqua Shard at a tender age. His new brand PuzzleProjects covers anything F&B industry-related, and it is no surprise that such an innovative chef created two of our emerging trends.
Freaky Fudge

The first of Spalding's innovations is a range of savoury fudges that were devised for an H+J event in London. This involved such delightful tastes as chorizo fudge, a foie gras fudge, and even a Szechuan fudge with peppers. To accompany the fudge, Ben delighted diners with insect-infused praline chocolates. Added to this were dramatic touches that really set off a successful event, such as levitating canapés and some fabulously inventive cocktails.
Who was dreaming of a Black Christmas?
A range of chefs were involved in the Black Christmas Feast put on by the rum brand The Kraken in December. By sourcing ingredients that all feature black as a component, the feast delivered on its theme. This involved a rare roast beef served with black potatoes and beef dripping gravy. This was followed by a rich black Christmas pudding infused with Kraken rum.
All of this was served up in black tableware which can be sourced from catering supplies such as https://www.247cateringsupplies.co.uk/ if you want to emulate this successful event.
Chicken on a brick

The second innovation from Ben Spalding was introduced at The Future is… event last November. The menu included such wonderful ideas as a full roast dinner in a pot, adding unusual ingredients to the traditional roast such as pomegranate jewels and a deep-fried Yorkshire pudding with bacon, finished with a roast beef gravy jelly, and all served up together in a pot rather than on a plate.
The chicken on a brick is a wonderful creation using a butter-poached chicken breast with dark caramel, along with a chicken liver and brandy parfait topped off with a blackberry gel to create a truly astounding taste sensation.