If it's fit for the royal family, it's fit for us! The royals were first drawn to Tunbridge Wells after the discovery in 1606 of a spring, and the spring water was rejuvenating and highly desirable and can still be sampled today. So, aside from the water, what else draws people to this quaint town in Kent?
Outdoor Adventure
Bewl Water is a large reservoir where fun-seekers can experience canoeing, rowing, and sailing. Walking around the reservoir covers just over 12 miles, so this is the place if you're looking for hiking, outdoor play, picnics, or watersports.
Woodland Fun
Further outdoor adventures can be found at High Weald, a mediaeval wood with hills and castles! This ancient land is the perfect destination for family days out, where you can see ruins, outcrops, and ancient routes to spark your imagination.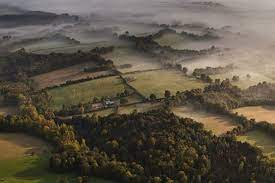 Country Houses
If you love a bit of historic grandeur, you'll discover the country retreats of Winston Churchill and Charles Darwin here! Groombridge Place is also where Austen's Pride and Prejudice was set and is thought to have inspired Sir Arthur Conan Doyle.
Retail Therapy
One of the most popular destinations in Tunbridge Wells is the centre's cobbled and stylish shopping streets. There is a wealth of independent stores where you can discover designer goods, beautiful jewellery, and exquisite home furnishings. For a spot of culture, The Pantiles is a must for boutique cafes and galleries galore. When you need details on Local things to do in Tunbridge Wells, go to a site such as localthingstodo.co.uk/locations/things-to-do-in-Tunbridge-wells
Gardens
There are various gardens and parks to choose from, which is just one more reason why this Kent town is such a draw to visitors. Dunorlan Park offers a whopping 78 acres of gardens and parkland designed by the Victorian landscaper Robert Marnock. Whether you stroll, cycle, or take to a boat, it's a serene experience. For floral displays, Hole Park Gardens is a must.
Food
Gastronomic delights await visitors to Tunbridge Wells, as there are more than 200 restaurants. Whether you are looking for gourmet dishes, afternoon tea, or some traditional British pub grub, award-winning eateries abound!
Vineyards
For those who enjoy a tipple, the vineyards of Sandhurst and Biddenden can be found not far from the town. Tours are available around the vineyards, and wine lovers can appreciate some of the best British sparkling wines.