Nissan has had a clear lead in the Paris Motor Show: the new Nissan Micra. It was there that has produced the world premiere of this brand new model. The Nissan Micra 2016 is the fifth generation of this compact car segment B that went on sale in 1982.
What segment B it is because there are two types of utility vehicles: the segment A, the smaller (usually 3.5 to 3.7 m about long), and of a slightly larger B segment (about approximately 3.8 to 4.10 m), but without becoming a mid-size car. Both cars are designed primarily to get around the city and not drinking too much, although in the case of segment B can travel without fear.
In Europe there is a very tough competition in the market for this type of utility car segment B, with around 40 different models of different brands. With this in mind, we wonder what can offer the new Nissan Micra do it emphasize respect of others.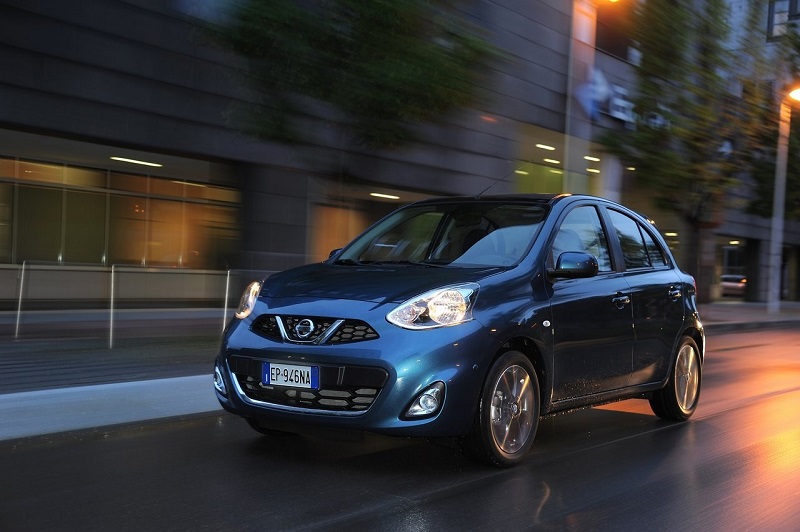 In the group of passenger cars competition is fierce
If you recall, you probably realize that you do not see many Nissan Micra fourth generation on the streets. The reality is that it was a car that has sold very little, much less than the average sales of Japanese brand in our country. Something went wrong.
From what we have seen they have worked in several respects in which the previous Micra was looser, and in particular to make it more visually attractive, though not an SUV (the type of car that is more fashionable today) . And what are those issues?
Nissan Micra 5: More modern and customizable design
The first notable feature of the new Nissan Micra is the design of the car. Now it seems a car harder and claw, more modern, more attractive and more dynamic. When evaluating a design it is clear that depend on the particular tastes of each, but compared to the previous generation, the old Micra seemed more neutral and less passionate.
Serve remember what the Nissan Micra of the previous generation (have a couple of pictures above): the end of 2010, very rounded, and the restyling that took the car in 2013, which also finished hooking. No doubt the new Micra has changed a lot, it seems more sophisticated and can be more visually appealing to more people. At least we seem changes for the better.
Inside the new Nissan Micra with orange color, to match the exterior paint of the car. The materials and textures are pleasing to the eye and touch
Inside the changes in design, they are also very large. Improved perceived quality interior with visual materials with higher quality, quilted leather with visible seams, smoother and better finished off. Again compared to the previous Micra we can ensure that the visual improvement is real: in the old interior was made from hard plastics fairly simple and austere.
Compared to other models of segment B we are also talking of a good standard, middle up, and now rubs elbows with reference models in this respect as the Volkswagen Polo.
Another point to note is that the car can customize both the exterior and interior to suit the driver. In total there are 125 different combinations. This is something that gradually has been offering more models of small cars such as the Renault Twingo, the Peugeot 108, the MINI, the Opel Adam, to name several, although not as prevalent still in models slightly larger.
Thus inside there different upholstery, fabric, cloth and leather or leather colors and different materials and finish of the dashboard, in combination with the upholstery and paint color body. Outside, besides paint colors, also they can incorporate different adhesives color on the body, or combine different elements and details in a different color (mirrors, running boards, skirts, tires …).
In terms of dimensions, the new Nissan Micra is bigger than before without either be too: it measures 3.99 m long. It has grown 17 cm length, but still a car compact dimensions, which comes in handy for movers the city without many problems. To give you an idea of its dimensions are average in the B segment: for example, a Toyota Yaris is a little shorter (3.95 m) and a SEAT Ibiza is a bit longer (4.06 m).
We have no official data capacity of the trunk, but according to what we have seen in person is big enough for a car so: it seems that should be around 300 liters of volume and by the way without giving up the spare wheel, which is not bad. This size would also be above average for cars of this size (which are usually between 260 and 280 l). For example, one of the best porters in a utility has the Škoda Fabia, with 330 liters.
You may also like to read another article on BlogsMujer: Project i20, electrical and autonomous car that BMW wants to compete against Tesla
Connectivity and security technology
Since for most people today is almost essential to your smartphone, the new Nissan Micra also has a system of multimedia connectivity with a color touch screen of 7 inches, which certainly is not bad resolution, angle vision and tactile response. In the instrument panel display it includes another 5 – inch color for the on board computer.
With this system you have hands – free phone book access contacts, audio file playback and navigation GPS. It is also compatible with the protocol interoperability Apple carplay and allows voice control of Siri. But we miss that is also compatible with Google Android Auto. We struggle to understand that the system of Google, with Android operating system in the majority not incorporate smartphones.
Apart from connectivity, seem much or more interesting new driving assistants that can incorporate the new Nissan Micra, although not all are standard and depend on the level of finish you choose, certainly not yet know, nor his prices. In this way, we can find:
Assistant maintenance on the rail , which recognizes the lane lines and not only emits a small warning to alert the driver, but also acts lightly on the steering and brakes to help redirect the car within the lane. This system is new in this size of car.
Brake autonomous emergency, with detection of vehicles and pedestrians , so that the car brake by itself if the driver has been distracted. Except the new Kia Rio 2017 also just presented in Paris, so far no utilities with pedestrian recognition. NCAP is increasingly convinced of the usefulness of these systems, they reduce 38% scopes. If you also have pedestrian detection can reduce abuses. From our point of view this safety equipment is fully recommended and has many ballots to become mandatory within a few years.
Video cameras to view 360 degrees, also including reversing camera and obstacle detection vehicles and pedestrians around the car. Again this is something that could only be ordered in larger, more expensive cars.
Recognition of traffic signs showing the speed limit on the dashboard of the car in real time.
Vehicle detection and alert in the blind spot of rear-view mirrors.
LED headlamps and auto attendant for low beam and long range.
Sound equipment more than convincing
The last argument of the new Nissan Micra to stand out from the competition, and perhaps to win over younger audiences, is the new Bose stereo high – fidelity surround sound, optional depending on the version. The system is designed to deliver quality higher than the basic equipment sound, but without being too costly.
Although there is still no official prices for the different versions and optional equipment, the engineer in charge he explained that the price difference can be around 350 or 400 dollars. If so it would not be an outrageous price for what it offers. The system consists of 6 speakers in total and an amplifier:
Two tweeter 2.5 cm neodymium in the A- pillars, on the dashboard, for the treble.
Two speakers for midrange and bass tones of 16.5 cm, with helical coil in the front doors.
Two speakers 6 cm, also with helical winding, in the headrests of the driver.
An amplifier and digital sound processor placed under the driver's seat, 4 -channel surround sound.
We had a chance to see how well this system sounds, and the truth is that we found the most convincing. We do not know what power it has, but the volume it can reach is quite high (much more than what would be normal to drive), and it does not sound bad.
The music could be heard clearly and noticed a serious fairly deep, plus a pretty good surround sound sensation was achieved, without being noticed that the sound coming from the speakers of the headrest is too close or become annoying.
The small disadvantage of this system is that it is focused on the driver: this is enjoying a better listening experience, the passenger still listening music very well, but with somewhat less surround effect, while passengers in the rear seats they perceive sound more distant and both the quality offered by the team not noticed.
Will they be all these sufficient arguments for the Nissan Micra 2016 convince drivers and sold more than the previous generation? Will have to see your response and also the prices at which the car (not yet known) will be sold.