Couples are increasingly choosing to include a ring warming ceremony into their big day celebrations. It's a beautiful way of really including your guests in the ceremony as opposed to your guests being purely bystanders to the action. What is a ring warming ceremony? It is when your rings are passed around your gathered friends and family, offering them an opportunity to hold the rings and imbue them with good wishes, love or a prayer for your marriage. By the time the rings make it back to the couple, they will be warm with love and best wishes.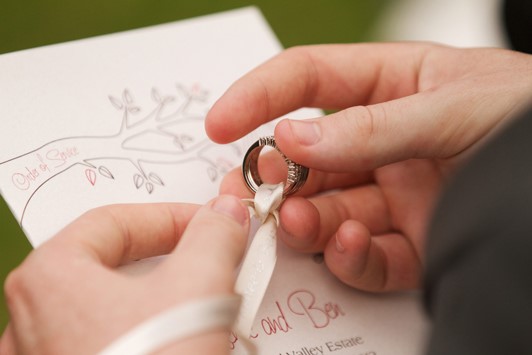 Having ring warming as part of your ceremony is also a great option for those having a non-religious service who still wish to consider their religious friends and family. The ring warming will supply them an opportunity to bless your marriage, bringing their own private beliefs into your ceremony in a subtle but meaningful manner. Talk to your Gloucestershire Hotel Wedding Venue to see how they can help you make your ceremony as unique as you. Find our more information on Wedding venues here
If you like the sound of this, consider putting someone in charge of the ring warming during the service. This person can explain the process to guests and ensure the rings move smoothly through the guests and make it back to the couple in good time. There are a couple of different ways of organising the ring warming. It is common to have the rings passing through the guests during the course of the service, with a ring chaperone keeping an eye on the proceedings.
If your wedding party is particularly large, you might want to have the ring warming before the ceremony starts, perhaps as guests are arriving and before they take their seats. Here are some handy tips for keeping your rings safe and looking great during a ring warming:
Run some string or a pretty ribbon along a row of seats and have someone introduce that part of the ceremony and start the rings on their journey through the guests on the ribbon.
Tie the rings together with some attractive ribbon
Place the rings together on a little porcelain dish.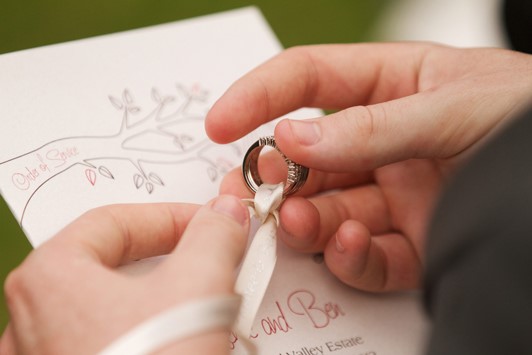 Having ring warming as part of your ceremony is a sweet and romantic act that will really engage your guests, making them feel like an active part of the occasion and not merely spectators. An added bonus is that it's also a great way to show off your gorgeous rings to everyone.