The right slideshow software can make a world of difference when compiling a slideshow. Not only will it determine how easy or difficult it is to do so, but it will also affect the types of audiovisual elements that you're able to use as part of your slideshow.
As a specialized slideshow software, Movavi Slideshow Maker for Mac is designed to make learning how to make a slideshow on Mac as straightforward as possible. At the same time it has lots of interesting features that will allow you to add a wide range of audiovisual elements and customize as well as improve your slideshow.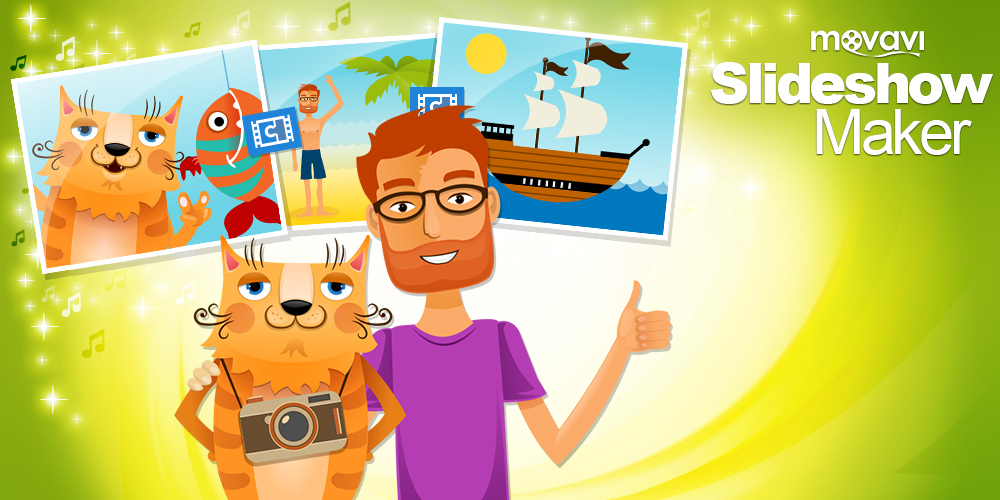 One of the main areas that sets Movavi Slideshow Maker for Mac apart is that it will let you choose between two very different methods of creating a slideshow right from the get go. If you select the 'Easy mode' you'll be able to quickly put together a slideshow with background music and animated transitions by following a simple step-by-step process.
On the other hand if you select the 'Full feature mode', Movavi Slideshow Maker for Mac will let you fully utilize its features and not only add a wider range of audiovisual elements, but also adjust and improve your slideshow in other ways. In short, you'll be able to determine exactly how you want it to turn out.
Wide Range of Features
Needless to say the features in Movavi Slideshow Maker for Mac differ depending on the mode that you use. In the 'Easy mode' you'll be able to add background music and insert a particular style of animated transition between all your slides. It also has tools that will automatically ensure there are no black bars around the images that you use in your slideshow, and limit its length to the duration of the music track.
The 'Full feature mode' of Movavi Slideshow Maker for Mac has far more options however, and will let you:
Incorporate video footage alongside images in your slideshow.
Insert audio tracks containing background music, voiceovers, and more.
Edit and improve media files to enhance their quality.
Apply a wide range of filters and special effects.
Add customizable text elements as unique captions, bullet points, and more.
Place specific animated transitions between individual slides.
Automatically synchronize the slide duration to the tempo of the background music.
All in all if you want to be able to create professional-looking and impressive slideshows – Movavi Slideshow Maker for Mac will fully equip you with the tools that you need. The fact that it is so versatile and easy to use will definitely help, and you can choose whether you want to quickly compile a slideshow or adopt a more detailed approach.